I finally got round to it
the beer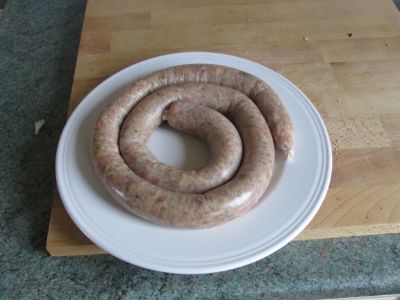 the sausage Cumberland style.
wanted a different flavour profile than my previous effort.
I used this beer after trying many.I wanted a lager type beer so that it would be lighter and less bitter to allow the bitterness of the chocolate to notice..The beer is a Belgian abbey brew.
I used pork loin from Morrisons they had it on offer at £4.50 per kilo (English not vac packed and cut off the loin before your eyes) I skinned it and removed all visible fat after grinding I ended up with 1.5 kg of mince.
To this I added 12 gms of fat replacer which came from the USA. Ithen took 750 gms for my sausage.
The recipe.
750 gms pork 66%
28 gms of pork and leek spice mix (from Tim) 2.5%
68 gms soya protien 6%
284 gms beer 25%
2.75 gms 100% cocao chocolate, 0.25%
This was altogether different from my peat smoked porter recipe and I reccomend it strongly.
The fat replacer could be subbed with tapioca starch ,Im not sure if there is a decent non alcoholic lager out there.
Will probably increase the chocolatea bit next time.